According to the All-Russian Classifier of Economic Activities (OKVED), the products of STC ANK belong to class 27 "Production of electrical equipment", group 27.20 "Production of electric batteries and storage batteries" and are included in section "C. Manufacturing. " The production of these products depends on the development of the following types of economic activities in Russia and the world: "Chemical production", "Production of machinery and equipment", "Production of electrical equipment, electronic and optical equipment", "Production of vehicles and equipment".
The listed types of economic activity, as well as the production of energy storage systems themselves, are at the present stage of the development of science and technology, existing global trends and product acquisition opportunities in the increasingly growing markets of electric vehicles, electrical appliances, gadgets, robots, etc. The impulse for development is received by the electric power industry and power supply.
---
The growing demand for these products in Russia is also supported by the implemented directions of the state policy of the Russian Federation (for example, the Concept for the Development of the Market for Electric Storage Systems in the Russian Federation, published by the Ministry of Energy of the Russian Federation). In the future - the creation on the basis of measures to develop the Russian market of energy storage systems for an entire industry, as well as support for manufacturers and developers.
The global market for electric vehicles and electric public transport has been evolving at an ever-increasing rate every year over the past 14 years. So, by 2016, volumes around the world increased to 750 thousand sales and about 2 million copies (source: Global EV Outlook 2017. Two million and counting. - IEA Publications, International Energy Agency, 2017. - pp. 5-7). All this, of course, opens up new opportunities for the development of the industry for the production of batteries, rechargeable batteries, backup power sources in Russia, and also helps to achieve a significant economic effect.
To assess the status and development prospects of industries related to the production and use of chemical current sources in Russia, we consider the information of the Federal State Statistics Service of the Russian Federation (Rosstat for 2010-2015 (presented in tables 1, 2, 3).
Table 1 - The volume of shipped goods of own production, performed works and services on their own for certain types of economic activity of the Russian Federation (in actual prices, billion rubles):
Source: Industrial production in Russia. 2016: Article/ Rosstat. - M., 2016 .-- P. 24-34.
Table 2 - Production index for certain types of economic activity of the Russian Federation (as a percentage of the previous year):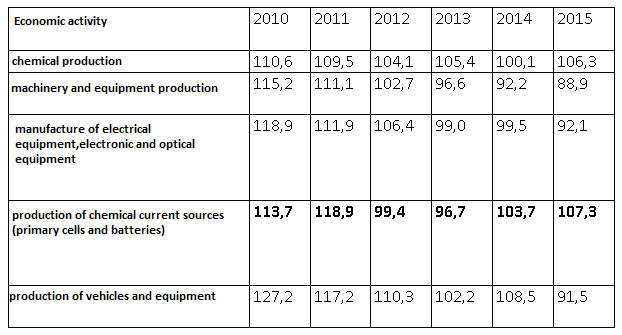 Source: Industrial production in Russia. 2016: Article/ Rosstat. - M., 2016 .-- P. 35-45.

Table 3 - Trade in technology with foreign countries for certain types of economic activities of organizations of the Russian Federation in 2015 (value of the subject of the agreement, million US dollars):


Source: Industrial production in Russia. 2016: Article/ Rosstat. - M., 2016 .-- P.230.
An analysis of the size of the industrial production index reveals that during the given period only chemical production and the production of vehicles and equipment (with the exception of 2015) had an annual positive growth rate. In recent years, the production of machinery and equipment, electrical and optical equipment has declined. Nevertheless, it is worth noting that the production of chemical current sources (primary cells and batteries) overcame the decline in 2012-2013,now develop at a good pace.

At the same time, with the growing volumes of industrial production, the task of import substitution has not yet been achieved and there is a serious dependence on imported products in those areas of activity that are associated with the market of electric vehicles, batteries and energy storage systems. Consequently, RTC "ANK" has prospects for increasing demand for the company's products, which stimulates its further technical development and expansion of the range of products.

Since 1991, RTC "ANK" has been developing, producing and researching alkaline batteries and storage batteries, which undoubtedly have a number of advantages, primarily operational ones. However, to date, electrochemical systems operating on the principle of ion exchange (lithium-ion, sodium-ion, etc.) and having higher specific characteristics along with lower cost are becoming more widespread in the world. Using our best practices and many years of experience working with batteries and complexes of alkaline chemical current sources (HIT), our company has begun developing smart batteries based on lithium-ion cells.

Based on the research of domestic and foreign scientists, we opted for a lithium system with a lithium-iron-phosphate cathode, as the safest, but at the same time it possesses rather high specific characteristics. For now our experts are conducting research in the field of lithium-ion batteries with mixed oxide cathodes. A battery of cylindrical MMC batteries with an original design and a lightweight monitoring and control system has already been developed and tested.

In parallel with these works, we resumed scientific research aimed at solving the technical problem of creating a high-energy-intensive aluminum-ion battery. Today this is a very promising direction, because such a battery will become cheaper, and most importantly a safe analogue of lithium-based systems. The scientists of our center for the first time began researching this electrochemical system more than 30 years ago. However, technological tools of that time did not allow to advance further than theory. According to some experts, our country lags behind in creating an aluminum-ion battery by 25-30 years. Some foreign companies have already received working prototypes with high electrical characteristics and are conducting research to improve them. The modern level of equipment and technology makes it possible for us to begin practical implementation of this task. We hope that with the state support and interest of large businesses in the innovative development of this area, we will be able to achieve the expected result faster.

Our company is open for wide cooperation in the field of joint research and development, non-standard solutions to complex technical problems and the development of new products